5 February 2018
Since becoming a partner in Woody's there have been a lot of things I have been proud to contribute to, either financially or of my time, for the LGBTQ community, not only in Philadelphia, but nationally. Recently, serving as Congressman Brady's representative to the Congressional LGBT Equality Caucus, I was able to point out that the LGBT community should be included in changes being made to the Congressional Accountability Act.  This change, called "Me Too", will give congressional staff the ability to come forward about sexual harassment in the workplace without the fear of losing their jobs. As we all know, the Republicans currently control the house; so, it's anyone's guess whether or not this will make it into the final Bill.  Let's hope it does.
However, a few weeks ago I was sent something from Congressman's Brady Chief of Staff that I thought was amazing, and I would like to share it with you:
"The National Football League is excited to host the ‪2018 Pro Bowl in Orlando, Florida this week. The Pro Bowl is more than a game; it's a week-long celebration that brings together the entire football community, and features interactive fan experiences, youth and high school football competitions, and community events and activities throughout the Orlando community.

Given your leadership in the Congressional LGBT Equality Caucus, we thought you'd be interested in knowing about the special event that the NFL is hosting once again, along with the You Can Play Project, for Orlando-area LGBT youth from local organizations on Saturday, January 27th. During the event, students will attend Pro Bowl practice and then sit down with current and former NFL players for a conversation on LGBT rights and inclusion in sports. In addition, participating youth will attend the Pro Bowl on Sunday, January 28th.

The You Can Play Project is an advocacy organization dedicated to ensuring equality, respect, and safety for all athletes, without regard to sexual orientation and gender identity. The organization's Hi-Five initiative aims to create meaningful connections between LGBT youth and leaders within the professional sports community. The NFL was the first professional sports league to join the initiative.

Best,
Kenneth Edmonds
Director, Government Relations & Public Policy
National Football League"
Last week, one of my staff members suggested that we make a friendly Super Bowl bet with one of the larger, historic LGBTQ bars in Boston: Club Cafe.  Having seen so many changes in our community in my lifetime, I wasn't sure if this was something of interest to us.  But after receiving the above letter from the NFL, and then seeing that Woody's, and several other local LGBTQ bars, were packed with Eagles fans cheering them on, I realize that our community has come a LONG way. We must've had a crowd at Woody's that rivaled the finale of RuPaul's Drag Race.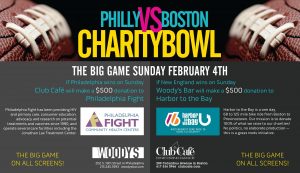 When the Eagles won, Club Cafe in Boston texted us congratulations, and wanted to know how best to make the $500 donation to Philadelphia Fight, the HIV Charity we chose as our bet beneficiary.  We were happy to tell them that, in celebration of the Eagles win, and to celebrate two great cities with great LGBTQ communities, we would still make a $500 to the Boston HIV charity they chose: Harbor to the Bay.  It was never about the money, but about showing that the LGBTQ community supports our teams, and our cities; that we are part of the greater community.  We also made new friends that share our goals in the staff of Club Café.
I am not a one to write articles, but I thought that this was something so extraordinary I had to share it with my community as it reminded me of how we came together in support of the victims of the Pulse massacre in Orlando. It proves that even though there is so much divisiveness in our politics, and other issues in our country these days, that the LGBTQ community is still standing together and making a difference.
Michael Weiss
Partner –Woody's Bar PHL