Woody's Hours
Wednesday 5:00 PM – 12:00 AM
Thursday 5:00 PM – 12:00 AM
Friday 5:00 PM – 12:00 AM
Saturday 5:00 PM – 12:00 AM
Sunday 5:00 PM – 12:00 AM

(reservations are not required – seating is on first come basis)
FOOD MENU
SERVED FROM OPENING UNTIL 9PM
Impossible Burger Sliders $13.75
Impossible Burger, Pickled Onions, Lettuce, Tomato,
side of Hot Cherry Peppers & Sriracha Ketchup.
Add ons- Cheddar $2, Monteray Jack $2,Blue Cheese $2, Bacon $2 ,Guacamole $2
Angus Beef Sliders $13.75
Angus Beef, Pickled Onions, Lettuce, Tomato,
side of Hot Cherry Peppers & Sriracha Ketchup.
Add ons- Cheddar $2, Monterey Jack $2, Blue Cheese $2 Bacon $2 , Guacamole $2
Loaded Nachos $13.75
Tortilla Chips, Pico de Gallo, Black Beans, Pickled Onions, Jalapeño Peppers, Sour Cream Drizzle Add Guacamole $2, Chicken $2, or Carne Asada $4
(SERVED UNTIL 10PM)
Charcuterie Board $10.25
Bento Box- Cheddar, Monteray Jack, Swiss, Whole Grain Crackers, Pepperoni, Red Grapes and Dijon Mustard
Calamari $13.25
Delicious calamari fried and served with marinara sauce.
Hummus Trio $10.25
House made daily selection of Hummus with Grilled Pita Bread Points
Beer battered chicken tenders $9.25
Served with your choice of honey mustard, ranch, bbq sauce
(SERVED UNTIL 10PM)
Street Taco Trio $10.50
Black Bean, Chicken Add $1.50 per taco, Carne Asada add $1.50 per taco Add Guac for $2
Buffalo Chicken Wings $9.25
With choice of Ranch or Blue Cheese
(SERVED UNTIL 10PM)
Pizza Margherita $9.25
Personal size thin crust pizza with marinara sauce, mozzarella cheese and basil.
Add Pepperoni for $2
Mozzarella Sticks $9.25

Served with marinara sauce
(SERVED UNTIL 10PM)
SIDES
White Truffle Tater Tots $7.50
-Tater Tots with White Truffle Drizzle, topped with shaved parmesan cheese and parsley
Sweet Potato Fries $6.25
-Topped with Powdered Sugar and served with raspberry vinaigrette
Guacamole and Chips $7.00
French Fries $4, Tater Tots $4.50
Grilled Pita $2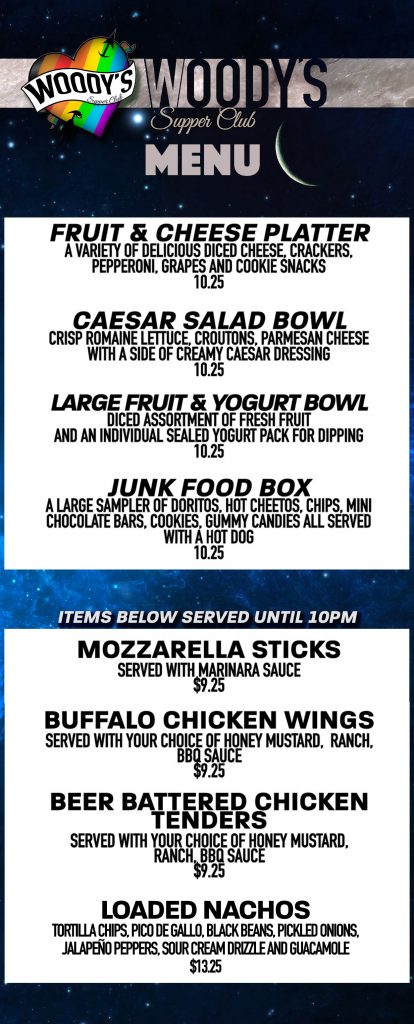 Woody's Specialty Cocktails, Featured Spirits and Beer 16 0z Drinks


SEE HAPPY HOUR INFORMATION UNDER THIS MENU
*Strawberry Mule
Grey Goose Vodka, muddled strawberries, lime juice, splash ginger soda, topped w/crabbies ginger beer
*Applewood #1
Effen Apple Vodka, Apple Pucker, cranberry juice, garnished with candied applewood bacon.
*Applewood #2
Faber Pomegranate Vodka, Apple Pucker, simple syrup, cranberry and pineapple juice garnished with candied applewood bacon.
*Tokyo Tea
Vodka, Gin, Rum, triple sec, kiwi juice, topped with lemon/lime soda
*Mango Caliente Margarita
Cazadores Blanco Tequila, Bacardi Mango, triple sec, mango juice, lime juice, serrano pepper, with sugar-salted cayenne pepper rim
*Strawberry Basil Margarita
Cazadores Tequila, triple sec, fresh muddled strawberries and basil, simple syrup and lime juice
*White Claw Mojito
Bacardi Superior, Bacardi Lime, fresh mint, lime, simple syrup, topped with White Claw Lime Hard Seltzer
*Banana Sunrise
Bacardi Banana rum, pineapple juice, orange juice, splash ginger and grenadine
*Hawaiian Mojito
Bacardi Superior, Hibiscus juice, muddled lime and mint, simple syrup, topped with White Claw lime
*Blood Orange Mule
Effen Blood Orange Vodka, grenadine, lime juice, topped with Crabbies Ginger Beer, and garnished with mint
PLEASE NOTE:
ALL PATRONS MUST ORDER FOOD
*FACE MASKS ARE REQUIRED
WOODY'S IS AN LGBTQ BAR THAT'S PROUDLY SERVED THE COMMUNITY FOR OVER 39 YEARS. IT IS OUR MISSION AND PRIVILEGE TO MAKE SURE THAT EVERY CUSTOMER HAS THE BEST EXPERIENCE POSSIBLE. WE ARE DEDICATED TO A PURSUIT OF FAIRNESS AND DIVERSITY IN OUR CUSTOMER BASE, OUR STAFF, AND IN THE MUSIC WE PLAY.
READ MORE ABOUT OUR MISSION.